SunSat Design Competition
The SunSat Design Competition has partnered with Enterprise in Space, a project of the National Space Society, to fund STEAM education via student-led spaceflight.

Consider supporting this endeavour via Generosity.com
SunSat Design is an international competition intended to accelerate the conceptualization, manufacture, launch and operation of the next-generation satellites that will collect energy in space and deliver it to earth as a non-polluting source of electrical power.

In the Third Round (2015-2016) of this competition, we are soliciting research and creative visualizations related to Wireless Power Transmission, a set of technological innovations that are key to development of workable space solar power systems.
THE DESIGN PROJECT

The purpose of the SunSat Design initiative is to move space solar power out of the research labs and onto the public agenda. This is being done by virtual story-telling and networking on a global basis, explaining what space solar power is and how and why it will become the ultimate renewable energy resource for Planet Earth.

The strategy is to link global scientific communities with university-based (and other) digital media labs for the purposes of advancing knowledge of space-based solar power satellites (SunSats) and illustrating their many Earth-energy applications.

Winning designs are high-impact digital art, supported by credible science, engineering and business plans, that best promote media understanding and public acceptance of a path forward in using space satellites to deliver energy on-demand to any and all places on earth.
THE SPONSORS

The SunSat Competition is an initiative of:
In partnership with: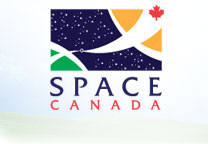 Ohio University SEDS Chapter

To bring a new level of visualization and international understanding to the concepts of Space Solar Power (SSP) and Wireless Power Transmission (WPT) using SSP, Ohio University has committed facilities and equipment, faculty and staff expertise and student time and talent.



COMPETITION BACKGROUND

The Competition is now in its third cycle. First announced at the NSS-sponsored International Space Development Conference held in May 2013 in San Diego CA, the initial round was brought to a successful close at ISDC-Los Angeles in May 2014, with six teams honored. Three of the designs submitted were awarded cash prizes, with Rajiv Gandhi University earning $10,000 as the first place winner. Each of the top three concepts are now published in the
Online Journal of Space Communication
.
The second round of the Competition saw similar success.
With ten registered teams in final consideration and three cash prizes to be given
, the China Academy of Space Technology took the $10,000 first place at the ISDC Conference held in Toronto in May 2015. The CAST visualization, along with those of the runner-up teams, is also published in
Issue No.18
of the Space Journal.
Registration for the third cycle is now open, and team enrollments will continue to be taken until January 15, 2016. Deadline for submission of completed designs and supporting documentation is April 1, 2016. Winners will be announced and their "Creative Visualizations" will be shown and celebrated in May 2016 at ISDC-Puerto Rico.
WIRELESS POWER TRANSFER THEME AND GUIDELINES

Our 2015-2016 Competition is soliciting research and creative visualizations related to the topic of Wireless Power Transmission.

We are interested in those "practical applications" of space solar power beaming that might produce near-term solutions in energy and environment, in communications, transport, commerce, manufacturing and other significant challenges facing our planet. Such applications may address either space to earth, earth to space or space to space transmissions and exchanges, or some combination of these.
Each of these submissions should consist of a completed WPT concept of exceptional quality based on: 1) an idea of significance, 2) a clarifying Creative Visualization, 3) an understandable Technical Brief, 4) a plausible Economic Plan and 5) a good Bibliography.
Those officially registered teams producing an early draft (with Abstract, Visualization, Tech Brief and Business Plan) by Feb. 1, 2016, will be assigned an NSS or SSPI professional to give critique and constructive comment, if needed.
To register your team, download and complete the registration application and email it to us. Please note that your official acceptance as a competitor team will be made only after all information has been provided to Ohio University. To help in framing of this Competition, and to assure a high level of evaluation, we have established a SunSat Advisory Panel, consisting of space professionals from the NSS and the SSPI.


To get started, we think you will find it helpful to view Space Journal Issue No.17: Creative Visualization of Space Solar Power. If you are a space scientist/engineer/entrepreneur who has been unable to locate a digital media lab near you, or if you are a visual artist/digital media center wishing to be linked to a space solar power mentor/advisor, the SunSat Design staff may have some suggestions for you.